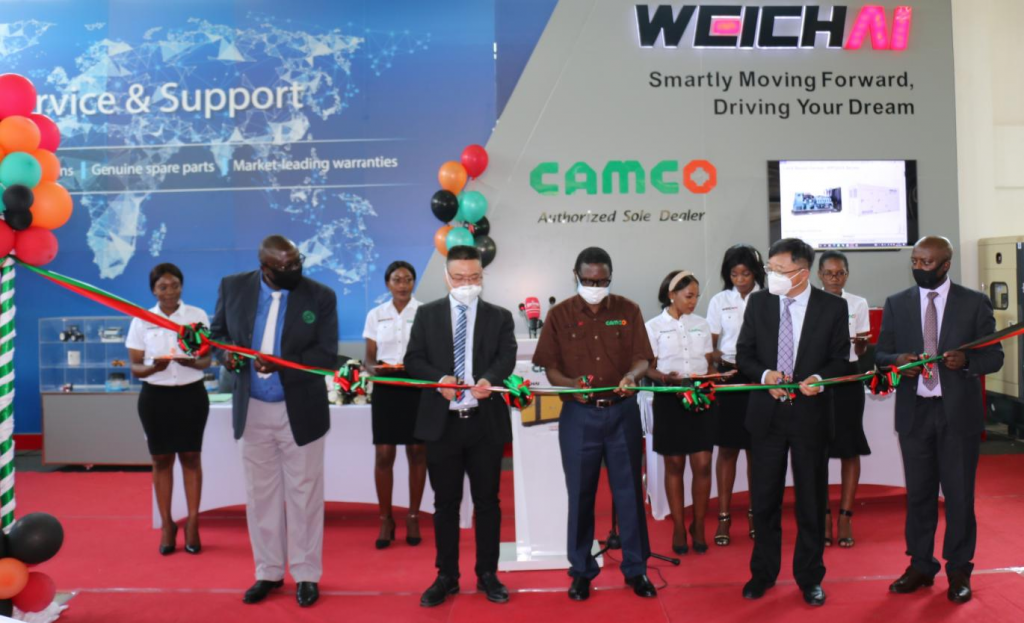 The scene of the ribbon-cutting ceremony
The rebranding ceremony of Camco-Weichai Exhibition Center was held on the morning of 21st October at the headquarters of Camco Equipment (Z) Ltd in Lusaka, the capital of Zambia. The event was graced by Minister of Energy Honorable Peter Kapala, MP. Other notable personalities included the Registrar and Chief Executive Officer, Engineering Institute of Zambia, Eng. Linus Chanda, The Chief Executive Officer-Public Service Micro Finance Company Mr Mwiko Mwenya, the Representative of the Zambia National Agricultural Association Dr. Daka, General Manager of Weichai Middle East and Africa Mr.Wang Changcong, the Managing Director and Chairman of CAMCO Group Mr. Li Tie, Camco Directors, Managers and employees. The occasion was covered by various media houses in Zambia.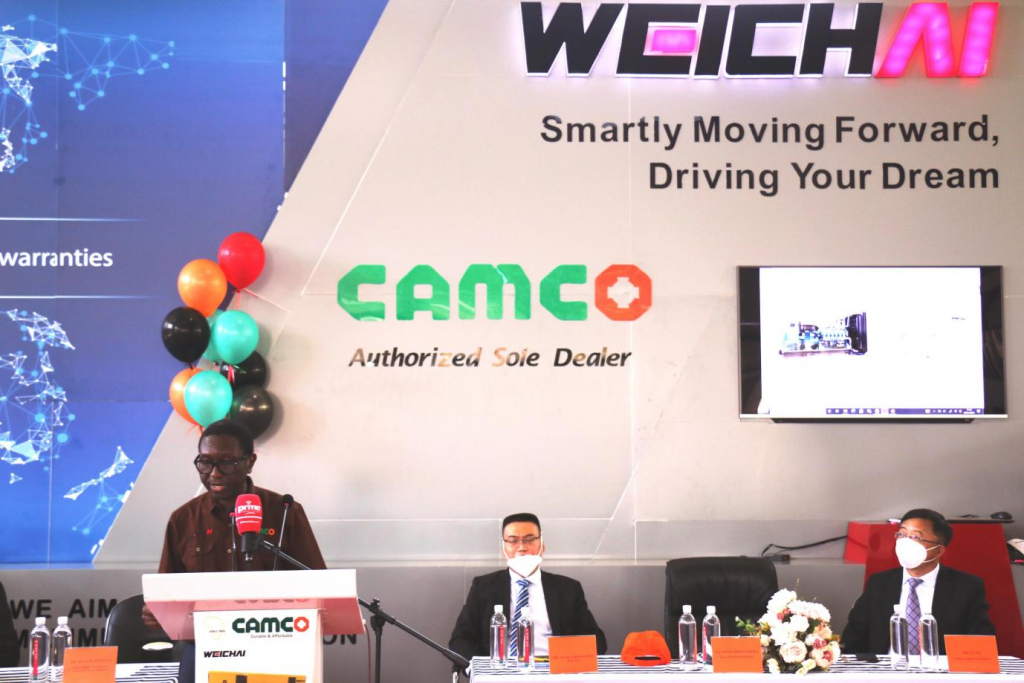 Honorable Eng.Peter Kapala, MP, Minister of Energy of Zambia delivering his speech at Camco –Weichai Exhibition Centre during the rebranding ceremony
Honourable Eng. Peter Kapala, Minister of Energy of Zambia, praised Camco and Weichai for the contributions to Zambia's energy development, and admire the popularity of the Weichai brand and the efforts made for Zambia's power supply. Honourable Eng. Kapala said that the successful operation of a brand requires not only excellent product quality, but also a complete after-sales service system. Honourable Eng. Kapala emphasized that government encourages companies like CAMCO to introduce more high-tech machinery products, and offered to provide necessary support for the development of power in Zambia.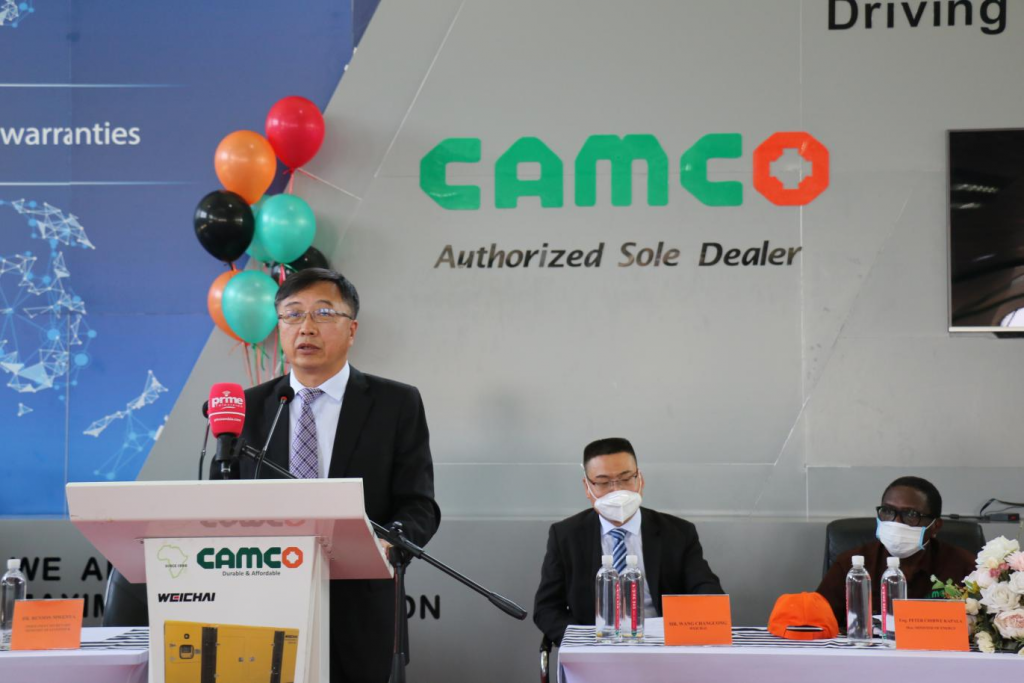 Mr. Li Tie, the Chairman and Managing Director of CAMCO Group deliver a speech
Camco Group Chairman and Managing Director Mr. Li Tie disclosed that Camco was registered in 1998 in Zambia, as a subsidiary of Camco Group; he went on to say that Camco was established to providing customers with quality but affordable machinery and equipment. Mr Li added on to say Camco presently operate in Zambia, Malawi, Kenya, Cameroon, Tanzania and China and that Camco is one of the reliable suppliers of portable diesel and petrol driven generators for domestic and commercial use. "In addition we also supply generators ranging from 1KVA to 4,000KVA including fixed and portable small generator sets, solar generator sets and other products which are designed for industrial use" Mr Li said. Tha Chairman mentioned notable customers that include Kenneth Kaunda International Airport, Simon Mwansa Kapwepwe International Airport, Lusaka Water and Sanitation Company, Zambia Air force, USAID , SAVENDA and many more. "Over the years CAMCO has emerged as one of the leading supplier of generators, as well as farming, pump and irrigation, husbandry, fishery, forestry, heavy-duty, construction equipment, and vehicles" Mr Li disclosed.
Mr Li went on to inform invited guests that Camco first introduced the Weichai brand in 2016 and over the years the Weichai brand had become a trusted brand for Zambian consumers who have a quest for high-quality products, advanced technology and excellent after-sales service. After six years of hard work and cooperation, Weichai products have become important power equipment in the Zambian market Mr Li added. In conclusion Mr Li stressed that Camco will further deepen cooperation with Weichai, not only selling products, but also providing customers with more spare parts, after-sales service and training support.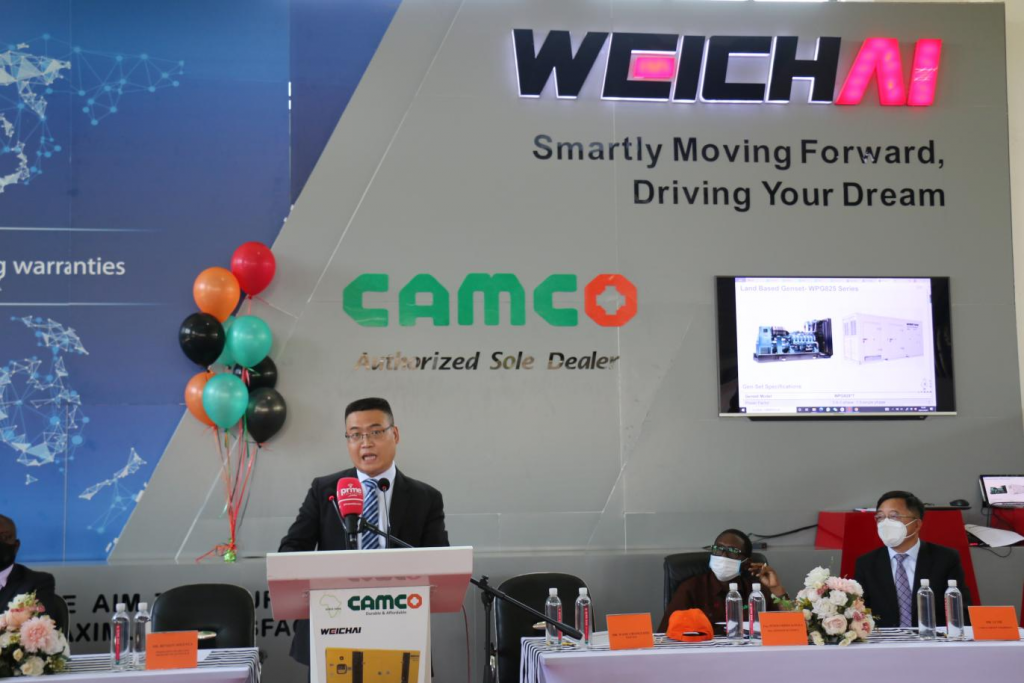 Mr. Wang Changcong, General Manager of Weichai Middle East and Africa delivers a speech
Mr.Wang Changcong, General Manager of Weichai Middle East and Africa, disclosed that Weichai Power Company Limited was founded in 1946. Mr Wang said after 75 years of development, its main business include power systems, automotive business, construction machinery, intelligent logistics, agricultural equipment and marine transportation equipment. Mr Wang said Weichai had become the representative of the world's high-end machinery manufacturing enterprises. He went on to say total output in 2020 reached 980,000 units, with an annual output value of more than 42 billion dollars. Mr Wang said Weichai is the largest machinery company in China. "Weichai generator sets enjoy a high reputation all over the world, and we hope to take this opportunity to bring safer, more energy-saving and efficient Weichai products to the Zambian market" Mr Wang said in conclusion.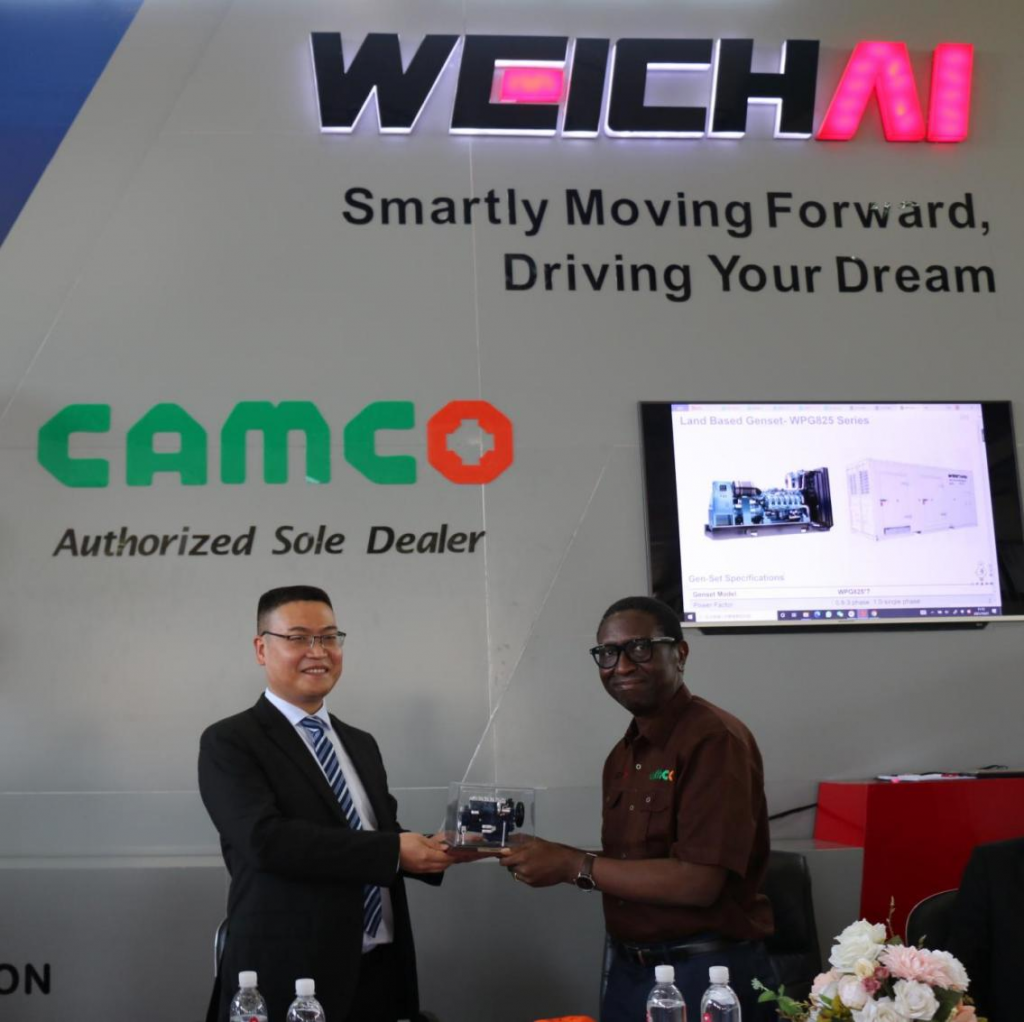 Mr. Wang Changcong, General Manager of Weichai Middle East and Africa presented the generator set model to the The Minister of Energy Honourable Peter Kapala, MP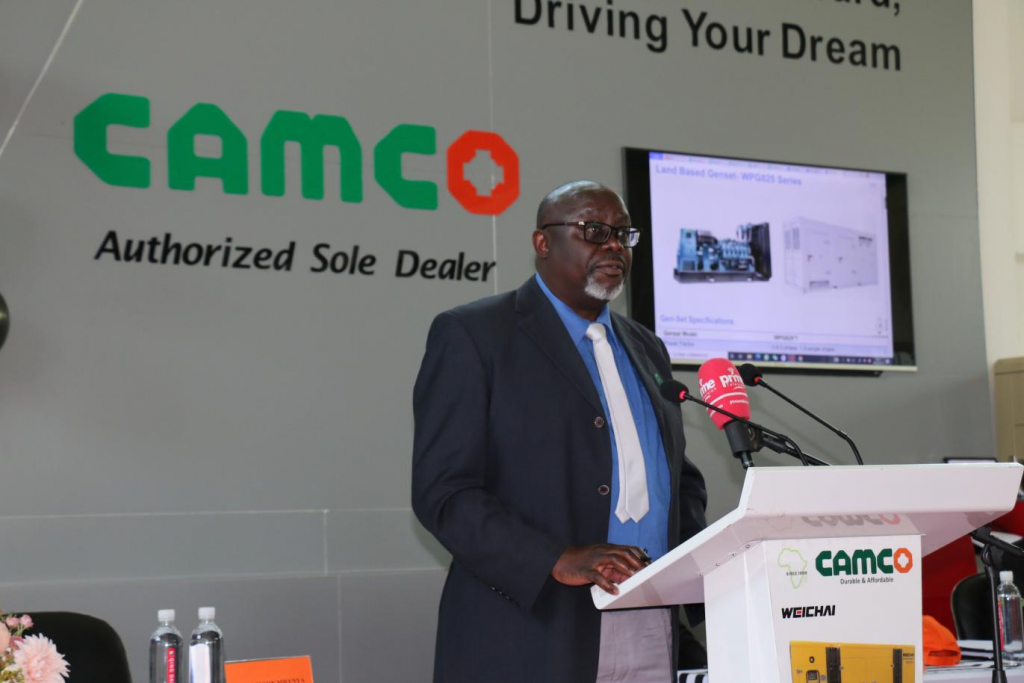 The Registrar and Chief Executive Officer, Engineering Institute of Zambia, Eng. Linus Chanda deliver a speech
The Registrar and Chief Executive Officer, Engineering Institute of Zambia, Eng. Linus Chanda believes that the rebranding will not only promote the development of more energy-related industries, but also makes a significant contribution to the development of Zambia's agriculture, fishery, animal husbandry, industrial and mining industries. He expressed gratitude that Camco Group recognized the Zambia Engineering Institute as a partner of Zambia's engineering and technical solutions. He highly appreciated Camco Group's contribution to the introduction of high-end products in many industries in Zambia, and said that energy saving and high efficiency is the direction of future development. Eng. Chanda stressed that Weichai is a leader in energy and power industries. He hoped that Camco Group and Weichai Group will speed up the introduction of related products and bring more advanced technology products to the development of machinery and automation industries in Zambia. Eng. Chanda said he believes that in the future, Weichai products will bring significant development to Zambia's industries including construction, electrical appliances and equipment, transportation, factories, industry and mining.
The launching ceremony was presided over by Mr. George Mulenga, Director of Human Resources and Administration of CAMCO Group.