On 16th June, 2021 Camco Group participated in the official opening of the Fourth Jiangsu University Agricultural Machinery Training in Zambia and Southern Africa. The Official opening held virtually was attended by Prof. Yan Xiaohong, President of Jiangsu University, Prof. Luke Mumba, Vice-Chancellor of University of Zambia , Prof. Hellicy  Ng'ambi, Vice-Chancellor of Mulungushi University , Mr. Zhang Zhongjun from The FAO of the United Nations, Mr. Dejene Tezera, Director of Agriculture Department, UNIDO, Mr. Mqabuko Dube, from Embassy of the Republic of Zimbabwe, Mr. Vincent Mwewa, from Embassy of the Republic of Zambia, Dr. Zainabu Massoro, from Embassy of the United Republic of Tanzania and students and lecturers.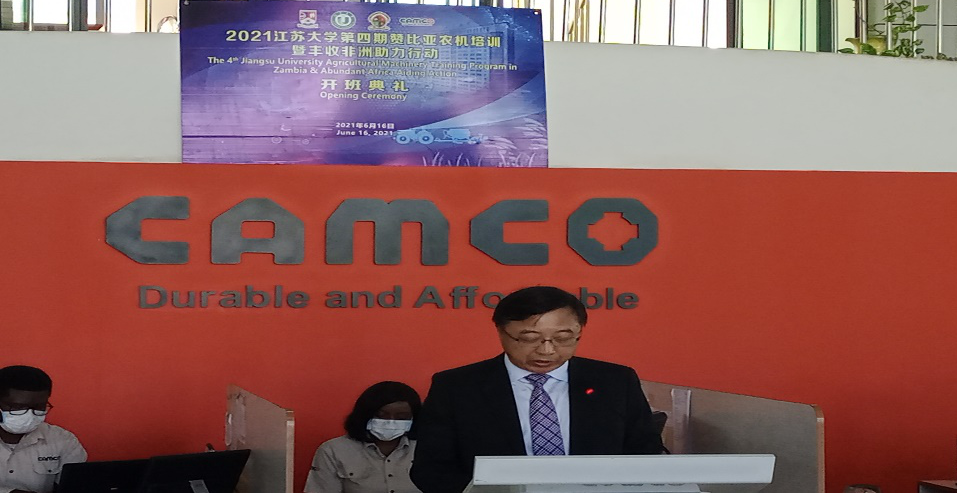 Through the speech delivered by Camco Group Chairman, Mr Li Tie, he pledged that Camco Group will continue working closely with Jiangsu University to play the supporting role as agricultural machinery training and practice base of Jiangsu University in Zambia and other African countries where Camco is present.
Camco Group first cooperation with Jiangsu University was in 2018 when Camco participated in the first Agricultural mechanization training program in Zambia. Jiangsu University is one of the earliest universities in China to engage in the study and design of agro-machinery, training of agricultural machinery professionals to African countries.
Camco Group Chairman Mr. Li Tie is confident that the partnership of this nature will promote transfer of knowledge and skills to this part of the world. Mr Li stated that this cooperation resonates well with the Zambian government's economic diversification drive, which places special emphasis on agricultural mechanization. Mr Li stressed that the continuous training provided by Jiangsu University will certainly help the agricultural development, and make contributions to poverty reduction, employment creation and food security.
Camco which has been in Africa for 23 years is currently operating in Zambia, Malawi, Kenya and Cameroon. Soon it will be entering the Tanzania market.