From 7th to 9th April , 2022, the 7th Agritech Expo Zambia was held at Chisamba GART Research Center after 2 years of absence. President Hichilema attended the show. The General Manager of CAMCO Equipment (Zambia) Ltd. Mr. Xu Jiadong , General Manager of Motor Company Mr. Peng Jiping, Marketing Director Mr. Bernard Chiwala, Manager of Agro & Agro Product Processing Equipment Dept. Mr David Sakala attended the show with team members .
The products of CAMCO Equipment (Zambia) Ltd exhibited included Weichai Generator set, Lovol Tractor, Lovol Combine-harvester, Debont Irrigation Equipment, Xinchang Jinlong Irrigation Unit, Ruirong Submersible Pump, Hangcha Forklift, Lugong loader, Chengli refrigerated truck, Wuzheng tricycle, Shuangxiang oil expeller, corn thresher, soybean thresher, milk storage tank, solar incubator, manual garden motor sprayer, mist mister, etc. The comprehensive variety of agricultural machinery products attracted a large number of visitors to the stand.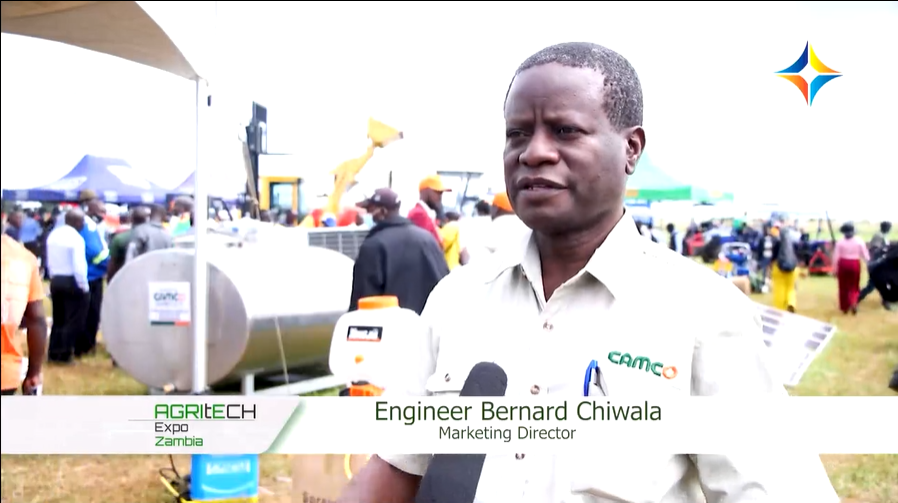 Marketing Director Bernard Chiwala was interviewed by the Zambia Diamond TV. Director Chiwala said that CAMCO is committed to promoting the development of agricultural mechanization in Zambia. He said the aim of the company is that of increasing the value addition of agricultural products, providing customers with leasing services of machinery and equipment and improving agricultural production efficiency to reduce production costs.
In terms of financing loans, the company cooperates with Agleaseco Company, Zanaco Bank, Stanbic Bank, and Zambia Public Service Micro-Finance Company to provide loan and financing services for customers who purchase equipment and machinery, reducing the financial pressure of customers and improving machinery and equipment delivery efficiency.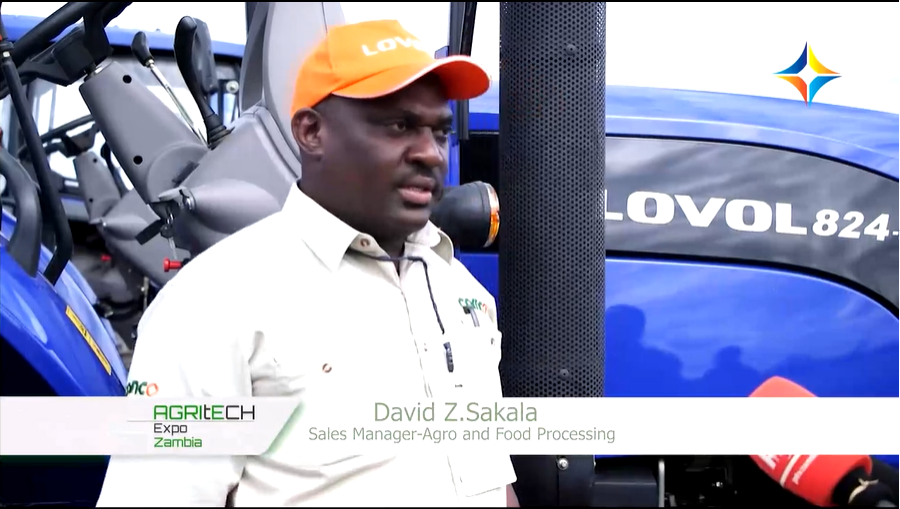 Mr. David Sakala, the manager of Agro & Agro Product Processing Equipment Dept., was interviewed by Zambia Diamond TV. Mr. Sakala introduced that the use of Lovol high-horsepower tractor with harrow, seeders and sprayers is beneficial to increase the agricultural productions. Mr Sakala Lovol Combine-harvester is suitable for commercial large farms, helping customers to increase the added value of products. Milk storage tanks, solar incubators, etc., will help increase customer product output and productivity. Mr Sakala explained that CAMCO provides customers with high-quality equipment, as well as supporting training, after-sales and spare parts services to solve problems of customers
The show provided a platform to display products, and at the same time provided integrated solutions for Zambia 's agricultural sowing, irrigation, harvesting, and deep processing of agricultural products. CAMCO will continue to provide customers with affordable and high-quality agricultural products to promote the development of Zambia 's agricultural mechanization.